Versions Compared
Key
This line was added.

This line was removed.

Formatting was changed.
Panel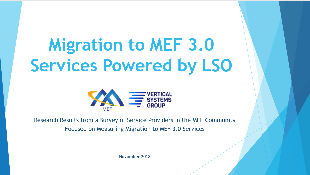 MEF and Vertical Systems Group are pleased to share the new groundbreaking report – Migration to MEF 3.0 Services Powered by LSO – with MEF members. The report is based on our joint survey involving more than 70 service provider respondents from around the world. This study illustrates the solid support for MEF 3.0 and sheds light on the pace of migration to a new generation of dynamic, assured services orchestrated across automated networks. The report is made available as a benefit of MEF membership and is not to be shared beyond MEF member companies (except to individual provider professionals who participated in the survey).
Panel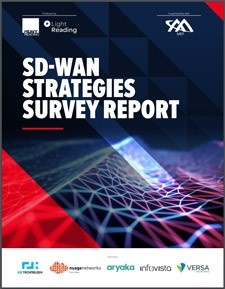 Light Reading/Heavy Reading and MEF are excited to share the results of our first joint global SD-WAN services survey. Focusing specifically on managed SD-WAN services offered by network operators to enterprise customers, the report details the current state and likely future trajectory of SD-WANs, based on operators' understanding and expectations. Survey data comes from 111 qualified network operator professionals whose employers either have launched or plan to launch managed SD-WAN services. This report is available for both MEF members and nonmembers. 
Download your FREE copy of the SD-WAN Strategies Survey Report now.
Panel

Image Removed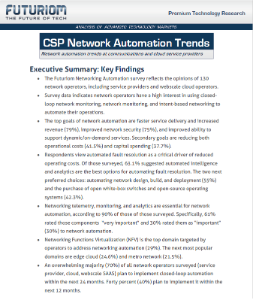 Futuriom recently released its new 
CSP Network Automation
report co-sponsored by
MEF
. This report is based on a survey involving 130 professionals employed by service providers and webscale cloud providers and incorporates comments from the MEF18 event.
This report is available for MEF members on the MEF wiki. Nonmembers can download the report
here
on the Futuriom website (registration required).
Survey data indicates network operators have a high interest in using closed-loop network monitoring, network monitoring, and intent-based networking to automate their operations. The top goals of network automation are faster service delivery and increased revenue (79%), improved network security (75%), and improved ability to support dynamic/on-demand services. 
Panel
MEF

In The News & Press Releases
MEF18 Special News Edition No. 3 -

in the News (11.16.18)
---
Panel
| | |
| --- | --- |
| bgColor | #EBF5FF |
| borderWidth | 2 |
Panel
| | |
| --- | --- |
| bgColor | #EBF5FF |
| borderWidth | 2 |
Panel
| | |
| --- | --- |
| bgColor | #EBF5FF |
| borderWidth | 2 |
Panel
| | |
| --- | --- |
| bgColor | #EBF5FF |
| borderWidth | 2 |

Click here for more details and to register for your next exam.
Panel
| | |
| --- | --- |
| bgColor | #EBF5FF |
| borderWidth | 2 |

Explore game-changing services aligned with the MEF 3.0 framework that provide an on-demand experience with user- and application-directed control over network resources and service capabilities. Learn about important steps being taken to accelerate delivery of these cloud-centric services across a global ecosystem of automated networks powered by LSO, SDN, and NFV.